The next Koolwheelz model in the Original 16 series is the Hot Wheels Hot Heap.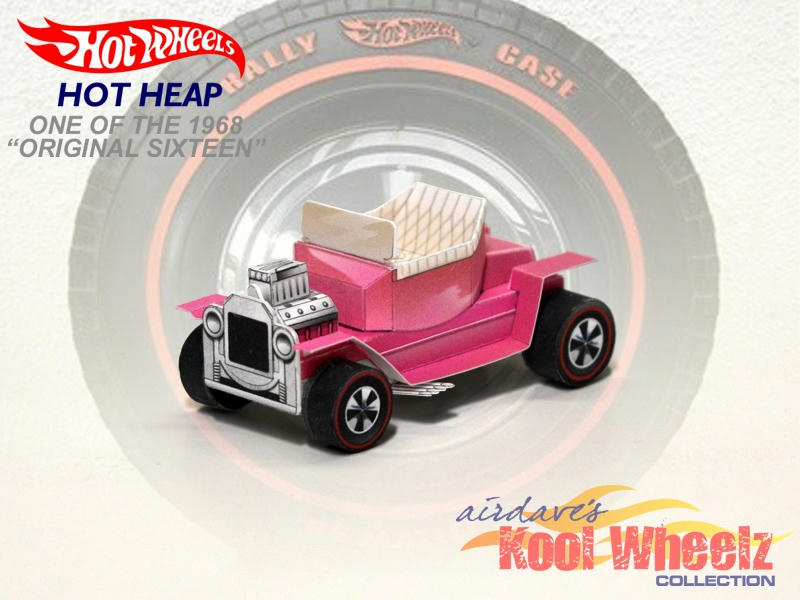 I never personally owned this model, my tastes went more toward the wild customs and the exotic sports cars at that time.
While I've grown to love Hot Rods of all kinds, I was also never a huge fan of T-Buckets. Give me a 5 Window Coupe any day!
But Hot Heap is still a very kool car and a neato toy! lol and I made it kooler by painting it hot pink!
As with many Hot Wheels, the toy was based on a real world auto...
in this case, Hot Heap was inspired by Don Tognotti's 1964 Grand National award and multiple award winner, the King T Roadster.
Kool to note that master builder Gene Winfield was responsible for the body and paint on the original King T.
The custom "pearl chameleon lavender" paint was a unique show stopper at the time and won its own awards.
King T was released in plastic kit form by both AMT and MPC kits, long before Mattel and Harry Bradley used it as the basis for the Hot Heap design.
The Hot Wheels Hot Heap was released from 1968 to 1971.
It has since been retooled and rereleased in 2012 and again in 2018
It was originally issued in the full line of Spectraflame colours from both US and Hong Kong factories, with white or beige interiors.
As always, I have stylized the design a little bit to help make it easier to build.
The Fenders, for example, have lost their curves in favour of a less complicated assembly.
And scalewise, its a little bigger than the real Hot Wheels toy, but in scale with the rest of the Koolwheelz Original 16.
As with the rest, it comes with a reproduction of the original Collectors badge.
And the model sheet features a basic assembly diagram.
Download it from the Koolwheelz Showrodz- Toys- Original 16 page.
[img]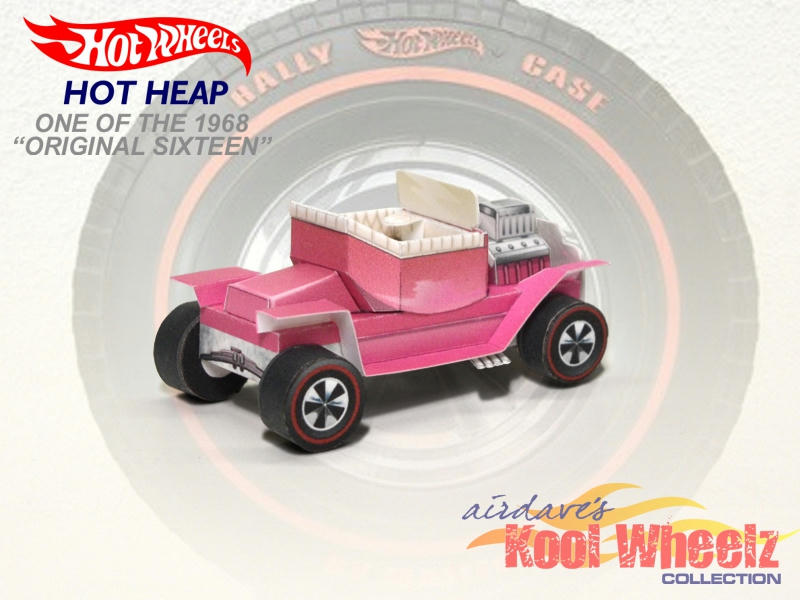 [/img]