Yep...I just couldn't resist this...thought it might give me a few steers for my build of the WOH Ilya...hmmmm....nope....
The version appears to be similar to the WOH model, the major differences being the lack of a windshields for the upper gunner, the lack of engine cowls, and the fact that all four engines are the same. It also includes the small internal bombload like the WOH one but does include two larger externally carried bombs - if you can figure out how to mount them!!
I almost missed it when it arrived as the wrapping (which did really protect it well, I must say) was this bag and I just thought it was some of my wife's gardening stuff...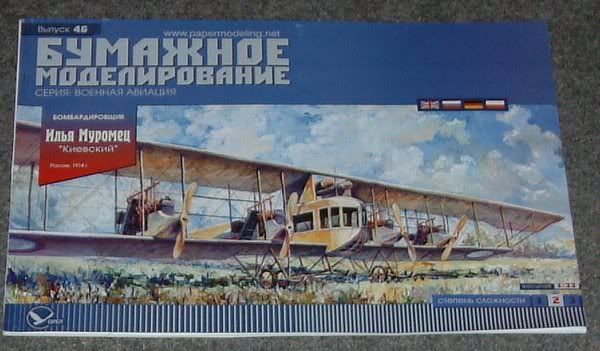 The cover in A3 - nice and impressive but shows the engine cowls which are not included in the parts...

The instructions? Well, this is them - I am really disappointed -compared to the dozen and a half pages in the WOH Ilya, Orel give you a single A3 page which isn't much more of a rough guide and leaves you figure the rest out yourself

There are parts 11 A3 pages of parts + one page of English instructions. Some of the interior is more detailed than the WOH model and the wing structure seems a little more complex but as effective as the WOH approach...
First impression: a little disappointed in the instructions and parts like the cowls which are not included - it is definitely a builder though but will be a wee way down the track as I have some way more fun subjects to do first...